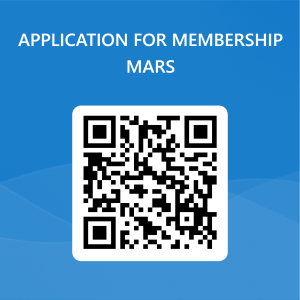 Information on how to become a member of MARS can be obtained from the Secretary (see contact page). Online membership form available by scan of QR code or click on this link. Membership Fee: Rs 500 information for payments to the Mauritius Amateur Radio Society below.
Mauritius Commercial Bank (MCB)
Account Number: 000050044095
IBAN: MU88MCBL0905000000044095000MUR
MCB Swift Code: MCBLMUMU
---
As of the 22 September 2023 at AGM the membership figures are: 2 Beneficient, 26 Corporate and 12 Associate. Note that, when an Associate Member passes the Class B licence and receives the callsign they become a Corporate Member. Therefore, Associate membership figures tend to change.
Important notes:
Any new member is to be sponsored by a Corporate Member.
Entrance fee (One Time) – Rs 500
Yearly Subscription – Rs 500