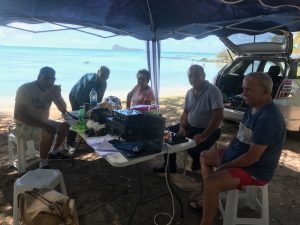 On 28th of May 2022, the portable team will be at LA CAMBUSE in preparation for an expedition to Rodrigues Island where they will setup three portable and one HF all band station, Patrice 3B8FA, Gerard 3B8FV, Patrick 3B8GF will be on Voice, Jacky 3B8CF and Francois 3B8BAN will be on CW. Anybody wishing to meet us at LA CAMBUSE are most welcome.
News from QO-100DX Club: 3B9 Rodrigues Is.
Information received from Pat, 3B8FA (QO-100 DX Club #86): "Hello, Great news for all. We are planning a Holiday style DXpedition to Rodrigues Island 3B9, locator MH10.
The date has already been fixed from the 5th to 9th of August 2022. We will bring 3 x QO-100 stations, operating mode CW & SSB.
We will be five operators namely: 3B8BAN Francois, 3B8GF Patrick, 3B8CF Jacky, 3B8FA Pat & 3B8FV Gerard."