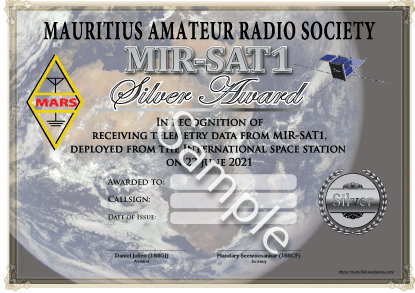 Congratulations to the following ground stations who have also received the Mauritius Amateur Radio Society (MARS) MIR-SAT1 Silver Awards:
1) 3B8GF
2) IK7HTB
3) ZR6AIC
4) EA4SG
5) JKC3B8, John Kennedy College the 3rd educational organization in Mauritius to receive a MARS award.
6) PHRSSS, Professor Hassan Rafa State Secondary School the 4th educational organization in Mauritius to receive same, they were the second school to receive the signals of our bird but had issues uploading telemetry to Satnogs, they have now succeeded.
It is worth noting that other teams, about 16 more, from other educational organizations are installing ground stations in Mauritius. This is in line with AMSAT Ambassador program, the MIR-SAT1 and MARS objectives to promote STEM and HAM radio. Hopefully this will inspire many students to take their radio amateur license and become active members of the community.