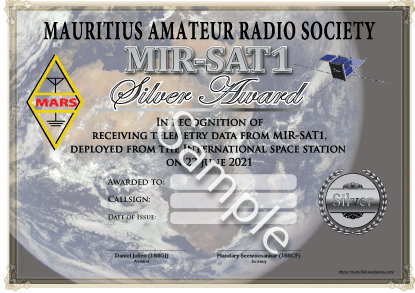 The below listed are the winners of the MIR-SAT1 Silver Awards, congratulations to these participating ground stations.
3B8BBD
AM_nml
E29AHU
JH4XSY
OM7AAK
FSGSSS (1st 3B8 school to obtain the Award, Forestside State Secondary School (Girls)
3B8FV
LZ1NY
PMLMB (2nd 3B8 School to obtain the Award, Polytecnics Mauritius Ltd. Montagne Blanche)
MARS has already issued the certificates to each winner.
Note: the Prof. Hassan Rafa SSS of Terre Rouge were the 2nd school to receive and decode the signals from MIR-SAT 1 but unfortunately without a permanent internet connection they could not upload the telemetry to Satnogs thus not eligible for the Award, hopefully they will obtain it soon.